Our training program at Trowbridges, Ltd. focuses on producing healthy, successful and long-term athletes out of every horse entrusted to our care, regardless of level of competition or discipline. A methodical and understandable training regimen is developed and followed for each horse depending on their individual's needs and abilities, and close attention is given to the many physical and mental aspects that can and do affect each horse differently.
A major part of our training program today focuses on facilitating each owner's learning and success with their horses, and to make the process fun and interactive for the entire family. Besides a focused and well thought out training plan for each horse, we develop an equally detailed plan for riders to hone their equestrian skills, generating monthly, yearly, and long term goal planning for both horse and rider, with attention to every detail. Our entire staff's commitment towards making your horse-owning and showing experience an exciting and fun filled event, consistent attention to the health and training of each horse, and a barn full of like-minded clients all dedicated to supporting each other makes Trowbridges, Ltd. an unparalleled experience for horse, rider and family.
The training program is led by career horsewoman Mary Trowbridge, a three time winner of the APAHA Saddle Seat English Trainer of the Year and Three time winner of APAHA's Horsewoman of the Year award. Mary brings over three decades of experience as a professional horsewoman and has trained and instructed literally hundreds of horses and riders to National awards in the amateur and junior divisions in a variety of divisions, as well as having shown to scores of National Championships herself in disciplines ranging from Park to English, Hunter and Halter. Besides her skills as an equestrian horsewoman and trainer, Mary has held a Large R Level I judges card for 17 years, and has judged Regional and National shows throughout the United States and Canada, as well as around the world.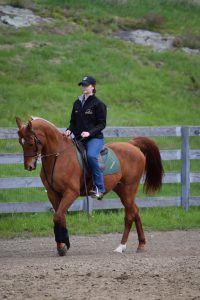 Working alongside Mary and sharing the training duties are a team of talented and young equestrians. Mary is an experienced and very talented professional horsewomen across multiple disciplines. Her team shares the management, training and showing of the farm horses, as well as the instruction of the farms successful amateur and junior riders. Pat Trowbridge is the farm manager who leads the Trowbridge team in the management and training of all young horsemen and women whose dedication, hard work, and attention to detail make the training process run smoothly for each horse. Dedication, attention to detail, and a tireless commitment to the best interests of the horses and the people that own them are the core values behind the Trowbridge training program. You can read more about these young horsemen and women on the About Us page of the websight, and we welcome you to the farm to visit with us in person and learn more about our approach to training and instructing.