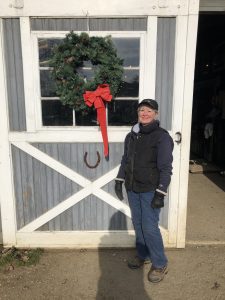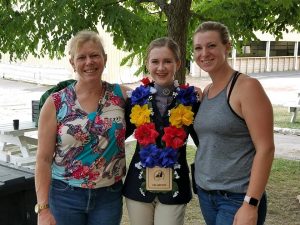 Pat and Mary Trowbridge combine their resume's in the agricultural fields to bring a lifetime of experience to Trowbridge's, Ltd., which they established together in 1991. Prior to that, Pat managed Angus cattle operations throughout the northeast, beginning with the three-generational family farm located in Corfu, NY, and later for some of the nation's most successful and well-respected Angus breeding and show farms in Northwestern Connecticut. As a manager of cow/calf operations, he was responsible for the cutting edge implementation of large scale breeding, embryo transfer and artificial insemination programs long before any of those concepts were known to the equine world, and his vast experience and education in both animal husbandry and over-all farm maintenance and management gives him an unparalleled advantage in the management of the couple's own business.
Mary began her professional equestrian career in 1978 as an assistant at the famed Sir William Arabian farm under the tutelage of legendary horseman Bill Bohl. Farm owner Leon Rubin was one of the first Americans to penetrate the Iron Curtain into communist Poland, thanks to his ownership of importation companies, and was responsible for some of the very first Polish imports making their way to the United States. The farm's motto at the front gates, "Our Integrity Is Your Guarantee", along with both Rubin's and Bohl's entrepreneurial focus gave Mary a solid business-ethics strategy from which to move forward, and her early immersion into the world of Polish breeding has given her a base that she draws on yet today.
Married in 1981, Pat and Mary worked separately expanding their business repertoires before deciding in 1991 that it was time to combine their talents and open their own business. As a team, the two bring an unparalleled, multi-faceted managerial prowess to their business, which today is located on the farm that they purchased in 2004 from legendary Broadway and movie producer, Mike Nichols.
Mary heads the training and sales divisions of the business, overseeing the forty-plus training horse operation, with a talented support team providing services to both the farms' show clients as well as to the large outside lesson program that has been growing in the last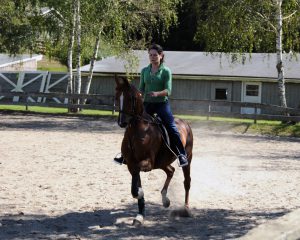 five years. With a versatile staff of equine professionals, Trowbridge's offers a full service training barn with a lesson program specializing in teaching young riders.
Pat devotes himself to the multiple managerial issues of the farm, such as the management of the breeding stallions, broodmares and the young stock, the transportation issues associated with moving twenty to thirty show horses around the United States and Canada throughout the year, as well as managing the office, billings, and customer relations. Assisted by Trainers Shannon Ginnetti and Derek Watson who bring their many talents to the farm including horse training, showing, amateur instruction as well as farm management.
---
The Farm:
The twenty acre farm, located among the rolling hills of rural Southwestern Connecticut, is today one of the oldest on-going Arabian breeding and training farms in the country. Beginning in 1968 with Nichols' purchase, the property has been home to cutting-edge Arabian breeding, importations, and training for over four decades. Many notable Arabian horses have called the Bridgewater farm home over the years, such as *Elkin, *Elkana, Barbary+++, *Enoss and *Eter, and since Trowbridge's arrival in 1994 show ring greats such as Red Tape+++/, Santa Fe Style+++/, Emperor Hadrian and Bluebeard NA, among scores of others, have called the Bridgewater facility home.
We are proud to stand at stud several notable Arabian sires, chief among them the multi-National Champion English Pleasure stallion Triften+/. As notable a show horse as he was, amassing all of his National awards with a junior rider aboard, he is equally as proficient a sire, producing beautiful quality foals with great dispositions and athletic ability, and has scores of National winning produce to his credit. A Major Fire represents five generations of bloodlines from our farm, and is a great breeding horse and broodmare producer. Each year a number of foals are born at the farm, and much of the farm's show string is comprised of horses who have been bred on the farm and then sold to other owners.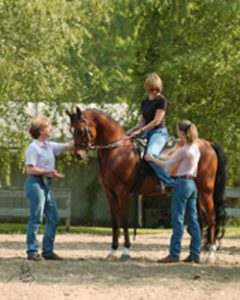 Trowbridge's have a global reputation, as well, in sales, with horses having been bought and sold through the farm's agency around the world. We specialize in matching horse to rider, and enjoy a national recognition as a place to buy with the assurance that the horses will be well and honestly represented, and that we will "service what we sell". We market horses for all levels of riders, and for all uses, and if we do not have a horse available that suits a buyer's criteria, we specialize in finding it.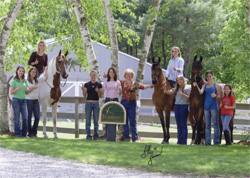 Today, Trowbridge's Ltd. comprises a business that spans the needs of any equine or Arabian enthusiast, regardless of age, income bracket, or aspirations. Three cornerstone ideals direct the course of our business—providing premier customer service, sharing and advancing the art of horsemanship, and the promotion and advancement of the Arabian horse, both within the breed's circle and beyond its walls. While continuing to compete at the highest levels of National competition, the farm also offers a public lesson program which encompasses lessons for beginners to experts, on-farm clinics, and retreats weekends.
We enjoy hosting a multitude of Introductory Arabian events, most notably our annual Christmas Open House, when fwe welcome the public to the farm for a day of close interaction with our Arabian horses, coupled with informatory clinics and demonstrations of the many things that Arabian horses bring to their people's lives. Keep an eye on the website for up-coming events, and join our e-mail list by going to the Contact Us page of the website and joining our e-mail list. And if you'd like to arrange your own visit to meet and explore the world of Arabian horses, give us a call–we love introducing new people to the greatest and oldest breed of horse, and we welcome your visit.!