Trowbridge's Ltd. in the Media
The talent and skills at Trowbridge's Ltd. is not only recognized at major Regional Arabian Horse shows and at the US and Canadian Arabian National Championships, but also by leading journalists in media institutions such as the prestigious Arabian Horse Times and local publications such as the celebrated Litchfield County Times in Connecticut.
We have pulled together some of the wonderful articles and publications on Pat and Mary and the talented staff which will give you a closer view into the Trowbridge's Farm and family.
Arabian Horse Times
Women Around the World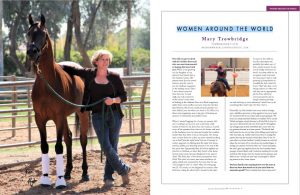 Excerpt…… Trowbridge's LTD has had longevity with their clients; what makes your relationship with your clients so special and how do you promote that family atmosphere? In one word … Gratitude. We are always grateful that people choose to share their dreams and their horses with us, and we give everything we have in us to honor, protect and fulfill both of those things for every client. Certainly there have been plenty of times when we haven't gotten it right, but I'd like to think they were the minority. We're also really fortunate to have always had great people who want to work alongside of us, and that share our love of sharing the horses and the farm with the folks that invest in us. Click here to read the full article.
Trowbridge's Ltd Farm Brochure
For a full view into the people, horses and farm at Trowbridge's Ltd., take a glance at this lovely brochure which tells the story of this picturesque farm through photos around the farm grounds, near lovely Lake Lilinonah and at the many Regional and National horse shows. You will quickly see the love we share of these Arabian horses and of the beautiful area of Connecticut. Click here to view the full Trowbridge's Ltd Brochure

Horse Tales Literacy Project Brings Reading to Life
First-graders from Region 12 elementary schools last week visited Trowbridge Ltd. Arabian horse farm in Bridgewater for a program that encourages reading. The event was the first of two visits to the farm the children will make as they participate in Horse Tales Literacy Project. Horse Tails is a nonprofit organization that promotes literacy, motivating children to read by connecting them with a classic book and live horses.
The Arabian Horse Times produced this incredible expose on Mary Trowbridge titled:
The Evolution of an Arabian Horse Woman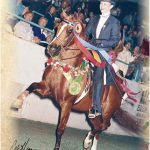 Click here to view the full article in PDF.
And here we are sharing an article on the Farm. Jack Corragio published this article on our Farm which is titled:
Pure Pleasure in Bridgewater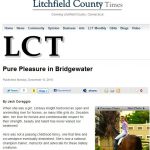 Click here to view the full article in PDF or link to the article by clicking here on the Litchfield County Times website.